Alpaca Sales & Breeding Services
The alpaca industry is known for being a tight-knit community. We are all working together to breed healthy, happy alpacas that are the foundation of the future commercial alpaca industry in the United States. Two Trees Alpacas cares about the success of your alpaca herd and the relationship we build with our customers.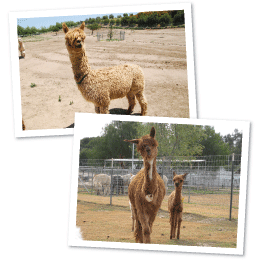 To help achieve that, the following services are available at Two Trees Alpacas:
A

lpaca Sales


All Two Trees Alpaca are ARI registered and all sales come with 30 days of FREE agisting, though you must insure your alpacas. All unrelated female alpacas come with a free rebreed to one of our Herdsires. All bred females have their pregnancies confirmed by ultrasound and records relating to the alpacas you purchase are included so you have their complete history. Discounts are given for sales of multiple animals. Financing is available for all alpaca sales.
B

reeding Services


All breedings to Two Trees Aplacas herdsires come with a 72-hour live birth guarantee, or you will get a FREE rebreed.
New Breeders Consulting
Like most other Alpaca businesses, we would not be where we are today without the help of others. We are always happy to share our experiences and industry knowledge with you.
Alpaca Products
Yarn spun from the fleece of our alpacas, as well as a variety of products made from alpaca fleece, are available through our products page and at open ranch days.
Fecal Testing
Nothing is more important than the health of our herds. One of the easiest ways to monitor their health is through routine fecal testing.

Referral Services




If we do not have the "right" alpaca for you, we will be glad to refer you to trusted breeders who can help you.