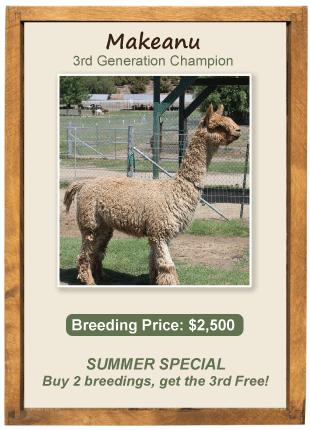 His sire, Keanu of PVA, was a multiple ribbon winner, and his grandfather is none other than Mahogony Prince! With those genetics, you can't go wrong. Tipping the scales around 225 pounds, Makeanu commands attention in the pastures with his regal posture and attitude. Take a closer look and you will notice how exquisite his fleece is…great lock structure, high luster, and incredible density; all of which he has passed on to his progeny. Add to that his gentle nature (also evident in Mustang and Basquiat), and you have a winning combination.
Just imagine what his 3rd Generation Champion genetics can do for your herd! Call today for more details about Makeanu.
Click here to view and download brochure.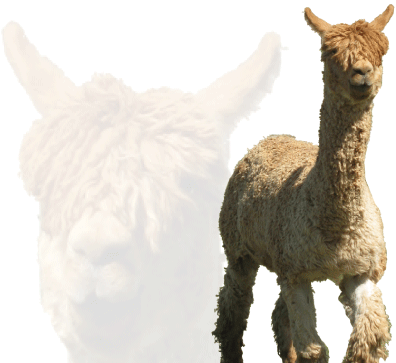 Name: Makenua
Type: Suri
Date of Birth: 11/24/2003
ARI#: 1073928
Color: Medium Fawn
Heritage: Peruvian/Bolivian
Status: Proven
Dam: Ameripaca's Marmie
Sire: Keanu of PVA -
2nd Generation COLOR CHAMPION
BREEDING PRICE: $2,000

For more information about Two Trees Alpacas or to schedule a breeding with Makeanu, please call (805) 216-6022 or contact us via email at info@twotreesalpacas.com.